Careers at IPNLF
At IPNLF, our ambition is to contribute to thriving coastal fisheries, including the people, communities, businesses, and seas connected with them. IPNLF works to develop, support and promote socially and environmentally responsible pole-and-line, handline and troll (collectively known as one-by-one) tuna fisheries around the world.
One-by-one tuna fisheries are widely regarded as the most ecologically responsible fisheries due to their minimal impact on the environment. Furthermore, these fisheries are very people-centric, supporting comparatively high employment compared to industrial fisheries, while still providing a model on which to sustain tuna fisheries and fishery-dependent livelihoods into the future. Due to these attributes, one-by-one fisheries are lauded as a responsible choice across international consumer guidelines. 
Would you like to be part of our team? Please find our job openings below. Would you like to send in an open application? You're always welcome to send your CV and motivation to Elsabe Crockart: elsabe.crockart@ipnlf.org.
Open Positions:
Fisheries Director
IPNLF FISHERIES department
Location: Country where IPNLF has an office. Other relevant locations will also be considered
 Job Type: Full-time
Salary Information: Competitive, based on experience
TO APPLY: EMAIL YOUR CV + MOTIVATION TO ELSABE CROCKART elsabe.crockart@ipnlf.org
Closing date for applications: 8 December 2023
---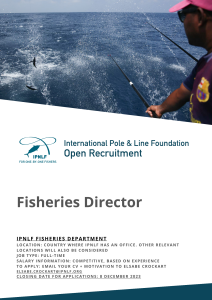 ABOUT THE POSITION
We're looking for an individual who has a dedicated passion for working with small-scale fisheries and helping find solutions to improve social responsibility, environmental sustainability, climate resilience, seafood quality, transparency, and improved market access for these fisheries. The ideal candidate must believe that transforming tuna fisheries is necessary to contribute to stronger, healthier, and more inclusive food systems, ultimately contributing to a fairer and more equitable world.
This is a senior management position for someone who can coordinate, facilitate, motivate, and drive the activities of IPNLF's Global Fisheries Team, achieving synergies wherever possible and ensuring delivery that supports the shared IPNLF vision and mission. A strategic thinker who will represent IPNLF at various fora to promote our mission, while influencing fisheries management and trade policies in order to transform tuna fisheries to contribute to healthier, more sustainable, and equitable food systems where the livelihoods of coastal communities are safeguarded
RESPONSIBILITIES AND DUTIES
Align IPNLF's Fisheries Programme with the 5-year Strategic Plan.
Ongoing strategic guidance, implementation, and tracking of the IPNLF 5-year Strategic Plan.
Effective management of projects implemented by the Fisheries Team. Strategic and administrative support to the Senior Team and Board, when required.
Technical oversight and leadership of the IPNLF's Global Fisheries Team.
Oversee management of programme operations, team recruitment, and budgets.
Represent IPNLF and its mission across various fora.
Foster strategic and collaborative external relationships (e.g. with NGOs, companies, and governments) that can optimise the efficiency and impact of IPNLF's work.
Guide and support fundraising efforts for the Fisheries Programme and IPNLF in general.
Establish innovative fisheries projects in current and new locations. Write and/or oversee projects, meetings, and technical reports.
Track work progress, measure impact, and further advance IPNLF's monitoring and evaluation of its effectiveness.
Ensure that fisheries projects are implemented within budget and agreed timeframes
.
QUALIFICATIONS
Preferably a post-graduate degree in a relevant subject, such as marine sciences; fisheries science/management; ecology; environmental science; or agriculture, although significant work experience will also be considered. A qualification in project management and/or a sustainable business qualification is an advantage.
ROLE COMPETENCIES
At least 5 years experience in fisheries management or the management of fisheries or other environmental projects.

Strong technical knowledge and understanding of environmental plus socio-economic issues in tuna fisheries.

Good technical knowledge of seafood supply chain issues such as traceability, transparency, seafood quality, and safety.

Strong knowledge of fisheries management, especially in the case of internationally shared stocks.

A thorough understanding of international fisheries management and linked seafood trade systems.

A strong understanding of fisheries sustainability issues and market-orientated solutions; considering environmental, social, and economic elements.

A strong understanding of the Sustainable Development Goals and sustainability initiatives aimed at ethical consumption.

Knowledge of fisheries in developing countries.

Experience in tuna fisheries and trade systems engagement and improvement.

Proven experience in developing and implementing strategies with evidence of measurable impact.

Experience in working with small-scale and developing world fisheries issues.

Proven experience in managing international remote teams.

Experience in coordinating and delivering communication and engagement activities (i.e. events, talks, conferences, cross-sectoral meetings).

At-sea experience (preferably in tuna fisheries).
---
ABOUT WORKING FOR IPNLF
Our team is located all around the world, and each team member brings a wealth of skills and expertise to the table.
Our team is incredibly diverse — from cultures, locations, background, and professional level. We respect and celebrate the differences and contributions the global team members bring. We all work to make the ambitions of IPNLF a reality, by applying our knowledge and enthusiasm. Most of the team members work independently and remotely from our offices located in The Netherlands, South Africa, Indonesia, and The Maldives.
Our Competencies and Values act as guiding principles for how we interact with colleagues internally and externally, and for how we approach our work.
We love the ocean, we have a strong sense for justice, and we are passionate about driving change. It makes us a values-driven organisation that works towards a common vision. The IPNLF organisational competencies and values listed below are fundamental practices of our culture that contribute to our thriving IPNLF community.
Our V

ision for the future is a world with thriving fisheries that work in balance with nature by catching one fish at a time.
This is why we work, both, directly on the ground with fishers and communities, and with decision makers such as RFMOs, local governments, and multiple stakeholders. We recognise the importance of championing and promoting local, traditional methods of fishing as they currently fight for their place in the supply chain against industrial bodies. We believe that these communities hold the answer to the future of our oceans as we move away from overfishing towards a more holistic approach to sustainability; environmental impact should not be the sole factor for sustainability claims or standards. We should also take social and economic factors into account for driving change as a responsible approach.
---
ORGANISATIONAL COMPETENCIES & VALUES
Global Mindset: We are open-minded; we show interest in the bigger picture and have a sense of cultural sensitivity and awareness, drawing upon awareness of global challenges to make strategic decisions to achieve the best possible outcome.
Influential Leadership: We are self-motivated and innovative, showing empathy and tenacity in our individual actions. By displaying drive and determination, we aim to transform the narrative of global seafood industries.
Centre of Collaboration: We favour building and maintaining relationships with diverse stakeholders and partners, putting our mutual interests first and adapting to the diversity of their needs.
Disruptive: We are prepared and able to boldly, yet tactfully, challenge the status quo of our industry to drive positive change.
Creative Problem-solving: We address problems, large and small, with innovative and solutions-based approaches to propose original and previously unknown solutions to problems.
Adaptable and Flexible: We recognise the dynamic environments in which we work, showing a willingness to pivot and navigate issues with agility, always seeking to understand, think quickly, and adapt our approach to thrive.