World Fisheries Day 2022
21 November, 2022
#supportonebyonefishers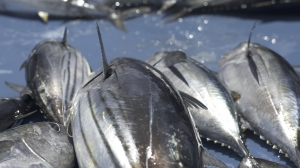 Support small-scale and truly sustainable fisheries on this World Fisheries Day — we invite you to become a part of a global movement to secure a world with fisheries that leave the ocean to thrive, in which fish is caught in balance with nature, and that is necessary to secure a future for coastal people, so no one is left behind.
---
About the campaign
Now, more than ever, we understand that our ocean's health is in serious danger; from the gravity of climate change to the effects of overpopulation on the planet, we undeniably need to transform our food production systems and we need to do it fast. The global pandemic has made us realise the importance of sourcing our food locally and supporting small-scale producers who are using natural resources sustainably and in balance with nature.
One-by-one tuna fishers are no exception: They play a vital role in supplying food to millions of people around the world, whilst preserving the natural resources from which it comes.
So what can you do to protect vulnerable coastal communities and protect the ocean?
Simple; when purchasing seafood, only choose responsibly caught one-by-one tuna; it saves ocean life and brings economic stability and food security directly to these small communities that are  intrinsically linked to the ocean. Don't be fooled by stickers, stamps, or certifications claims — instead, use this;
The 'STP' is a tool that allows you to find responsibly caught tuna near you and to help you understand where  your tuna is sourced, what are ethical tuna brands and companies, and what are their commitments? The STP allows you the chance to discover the entire journey from catch to consumer. Take the time to learn what goes into your next can of tuna, sushi, poké bowl or tuna steak. Get to grips with how you choose your tuna: for today, and for the future.
Are you ready to meet these incredible, beautiful fishers and capture the essence of their essential contribution in local coastal communities? Join our movement and help to change the future.
Please join is and fill in the form at the bottom of this!