Happy International Women's Day!
Today, we celebrate the achievements of women throughout history all over the world and recognise the ongoing women's rights movement for issues, such as global gender equality. This is still a big issue in many industries and day-to-day life, including the fishing industry. Fisheries are thought to be very much male-dominated but actually, women make up half of the workforce throughout the supply chain. 
Jobs generated by responsible one-by-one fishing offer employment to women who would otherwise have very few options and, in doing so, offer them freedom of their own through their own income. Let us celebrate the women that are creating a better future and better representation for the important roles they have in local fishing communities. Here's to these incredible women all over the world! Be empowered today and every day, for look how far we have come. Meet a few of our Women in Fisheries!
---
Mrs. Hasbi, 'Tibo-tibo'. Bitung, Indonesia.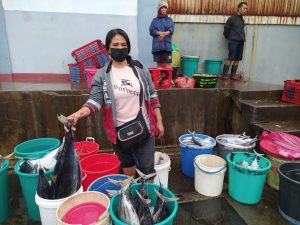 "I work as a Tibo-tibo here for about 10 years, I can help my husband to find additional income for the family. Furthermore, it is a hobby for selling fresh fish, which I believe is more productive. Typically, I buy fish from fishers by the size per basket or bucket and sell it between 3 and 9 a.m. So, even after selling the fish, I still have time to take care of the house"
Tibo-Tibo is the local term for "trader or supplier" in North Sulawesi. At 3 a.m., Tibo-tibo women are on standby at the fish market, ready to buy the fish from the fisher first. Some Tibo-tibo women have husbands who are fishers, so the fish they catch can be sold directly. There are also some whose husbands do not work in the fishing industry. At these markets you can find small pelagic fish, large pelagic fish, and demersal fish such as bottom fish, tuna, skipjack, mackerel, anchovy, and squid.
---
Mrs Sousana Sousa, employee at Santa Catarina canning factory. Saõ Jorge Island, Azores.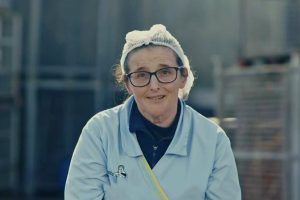 "When we have our jobs, we have our salaries, and we have our freedom. We don't depend on anyone."
The social responsibility of this factory sets an example; Santa Catarina's factory only sources locally caught tuna and employs over 120 women that would have a difficult time finding other paying jobs on the island, the factory provides free health checks for all employees, as well as annual health and safety training (including personal health), and, in an effort to help alleviate some of the financial costs associated with employment, the company arranges transport services to and from the factory for all employees. Because of her job, Susana is able to help her daughter through university. Because of her job, Susana is independent.
"Since I started working here my life has changed a lot. I have a house and a daughter in University. All because of this salary."
---
Aminath Naaifa, home based processor. Gan Island, Maldives.

"I have six children.When I started processing fish four of them were still in school. During that time, we were able to manage all of our household expenses
and the education of my children solely through my earnings from fish processing. Back then the earning from processing was good, but not anymore. It was my six kids, me and my husband – all of our expenses were managed with earnings from processing fish."
At IPNLF, we are supporting women in the Maldivian fishery through a project on increasing economic benefits to women fish processors. Through our upcoming #Dhumashi application, women can sell their home-based fish products to wider markets.
The Women behind your tuna
On International Women's Day, it's important to celebrate and honour the contributions of women in fisheries. By highlighting their achievements and raising awareness of the challenges they face, we can help to empower women in the industry and promote gender equality. We can also work to break down the barriers that prevent women from accessing resources and decision-making power, and create a more equitable and sustainable fisheries industry.
Women in fisheries play a vital role in the sustainability and profitability of the sector. They face significant barriers to entry and are often underrepresented in leadership roles, but have demonstrated resilience and ingenuity in the face of adversity. This International Women's Day, let's celebrate the achievements of women in fisheries and work towards a more equitable and sustainable industry for all.