IPNLF member, World Wise Foods generously donated one-by-one tuna fishing equipment to fishers on the Kenyan island of Lamu.

Responsible one-by-one tuna fisheries in remote regions of the world are often left in the wake of industrial fleets in terms of policy, catch allocation and funding. However, IPNLF and its members believe that these fisheries will lead the way for the future of global fishing. This is already happening where seafood consumers drive more focus upon responsible fishing that better considers socio-economic and ecosystem factors to secure genuine sustainability. This will help us achieve future seafood supplies that are more equitable and resilient to climate change and other shocks like the COVID 19 pandemic. The global sustainable development goals (SDGs) aim to leave nobody behind, while small scale fishers represent an integral part of the fishing industry and employ 90% of the global fisheries workforce while supplying critical nutrition and livelihood support to millions of people.
Following the lifting of local travel restrictions, IPNLF's Fisheries Director, Roy Bealey, recently travelled to Kenya's beautiful Lamu Island to distribute one-by-one tuna fishing equipment to some fisher cooperatives, known locally as Beach Management Units (BMUs). The equipment was kindly gifted to the BMU fishers of Lamu and Kiwayu island by IPNLF member, World Wise Foods. This gesture serves as a generous follow up to a similar handover of responsible one-by-one tuna fishing gears to the Amu and Shela BMUs, which was also supported by World Wise Foods in 2018.
These actions aim to empower local small-scale tuna fisheries and their reliant stakeholders in Kenya. Improving the availability of responsible fishing gears will allow them to sustainably glean improved socio-economic returns from their fishing and resultant fish processing activities. Despite being small actors in global tuna fisheries, this support helps give them a better chance of tackling their consistently intensifying struggle to maintain local livelihoods despite overfishing by foreign fleets, and to achieve or retain market opportunities.  Small scale fisher's future livelihoods are critically linked to responsible fishing, while they have limited or no options to fall back on when overfishing of internationally shared and highly migratory resources, such as tuna stocks, occurs.
National and county representatives of the Kenya Government also attended this event and informed the attending stakeholders about how the Kenyan government is collaborating with many other nations to address tuna stock concerns on an international scale. These concerns are felt most heavily by small-scale fishers who are being affected by the lack of fish availability that's too often caused by industrial scale fisheries that do not put broader ecosystems, and the local people who most critically depend upon them, at the heart of their operations. Combating these issues in the food industry lies at the heart of World Wise Foods' mission and vision. Furthermore, small-scale fisheries face the most dire consequences if governments fail to achieve responsible fishing through Regional Fisheries Management Organisations (RFMOs), highlighting the importance of them supporting the rights and needs of small-scale fishers among such international forums.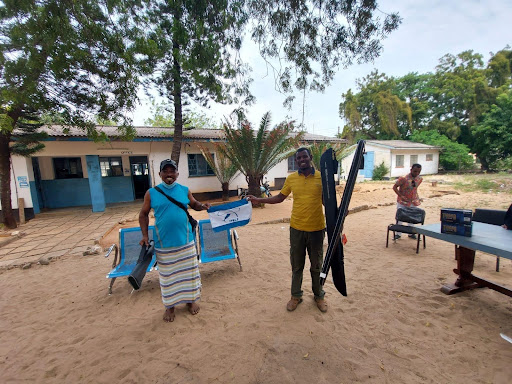 This site visit also facilitated ongoing discussions with various stakeholders from the fishery, government, private sector and civil society about the most responsible means of improving these small-scale fishers' livelihoods. Representatives of the Kenya Government further highlighted the importance of responsible tuna fisheries that maximise benefits to local fishery stakeholders while avoiding the ecosystem damage and dangerous pollution caused by fisheries that use excessively damaging fishing gears. These discussions are informing a collaborative investigation into the intervention options most likely to effectively address bycatch and ecosystem impacts among fisheries which use more destructive fishing gears.
The fishers and other stakeholders greatly appreciated this support and level of engagement while Kenya plans to make the most responsible use of Blue Economy opportunities within its waters. IPNLF and its members like World Wise Foods will continue engaging and supporting small scale one-by-one tuna fishers while working together in local partnerships to sustainably improve the livelihoods that depend upon them every day.
"This visit to Lamu provided an important opportunity to meet with diverse Kenyan fishery stakeholders and build their capacity to make the most responsible use of tuna resources available to them. We sincerely thank World Wise Foods for their generous donation, which was hugely appreciated by these kind fishers. I hope that together we can all do much more to help secure sustainable livelihoods for them and their families into the future. It's always a pleasure to meet with actual fishers, hear their stories and concerns while co-developing solutions between themselves, their government  and supportive IPNLF members like World Wise Foods" – Roy Bealey, IPNLF Fisheries Director.