IPNLF strengthens its governance structures by adding a prominent member from the Maldives to its Board of Trustees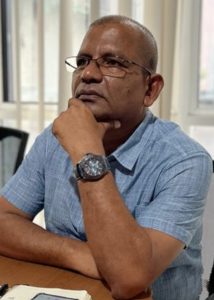 The International Pole and Line Foundation (IPNLF), the global charity which supports and promotes environmentally sustainable and socially responsible pole-and-line, handline and troll tuna fisheries, recently strengthened its Board of Trustees by appointing Mohamed Rasheed, also known as "Moosheed". Based in the Maldives, Moosheed has a wealth of experience in managing commercial fishing companies, and more recently, tourism related business, including his current role as Deputy Managing Director of Silver Sands Pvt. Ltd. 
Moosheed has held previous positions as Deputy Managing Director of Horizon Fisheries and Deputy Director at MIFCO. Moosheed brings a deep understanding of sustainable seafood processing for the global market to his role as a Trustee at the International Pole & Line Foundation (IPNLF).
---
Throughout his career, Moosheed has actively participated in various workshops and seminars, including at the Food and Agriculture Organization (FAO) and the Maldives Ministry of Economic Development (MoED). He also represented the Maldives at the first session of the Indian Ocean Tuna Commission's Technical Committee on Allocation Criteria in Nairobi, Kenya (2011) that sowed the seeds for the establishment of the IOTC Group of G16 Coastal States.
In addition to his role at IPNLF, Moosheed has held multiple board positions such as Vice President and Secretary General for Maldives Seafood Processors and Exporters Association (MSPEA) and Chair at the Employer Sector Council (ESC) for Fisheries and Agriculture under the Ministry of Higher Education. He has also been a Board Member at the Capital Market Development Authority (CMDA) for 7 years.
Moosheed holds a MBA in International Business and Management from the University of Technology, (UTS) Sydney, Australia, a post-graduate diploma in Training Management from the Training and Development Institute of Personnel and Development (IPD), UK, and a Human Resource Management diploma from the Adelaide College of Technical and Further Education (TAFE), South Australia.
Upon joining IPNLF's board, Moosheed said: "I believe that good governance in business is crucial and am committed to contributing to the ongoing work of IPNLF, supporting and promoting one-by-one tuna fisheries, which are essential for the protection of the fisheries industry in general and coastal states such as the Maldives."
Welcoming their latest trustee, Martin Purves, Managing Director of IPNLF, says: "With his extensive experience, industry knowledge, and market contributions, Moosheed is a valuable asset to the IPNLF. He is a firm believer that one-by-one fisheries are the most sustainable method of catching tuna, while they also contribute to food security and securing the livelihoods of coastal communities such as those in the Maldives. As such, he is very aligned with our own thinking and we look forward to his contributions."
Moosheed has taken his place on IPNLF's Board of Trustees with immediate effect.