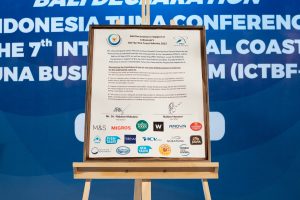 Seventeen global retailers, brands, and buyers unite in Blue Transformation, making a strong commitment to take action under the 2023 Bali Declaration.
Strengthening social responsibility and environmental sustainability in Indonesian tuna fisheries. 
The international seafood market made a strong commitment last night to Indonesia's one-by-one tuna fisheries at the International Tuna Conference (ITC) and the 7th International Coastal Tuna Business Forum (ICTBF) with the signing of a landmark agreement by the Indonesian Ministry of Marine Affairs and Fisheries and the International Pole and Line Foundation (IPNLF), backed by seventeen global IPNLF Member companies.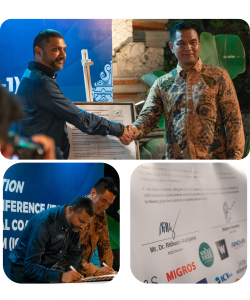 Indonesia's tuna catch is the largest in the world at about one million tons per year, or 16 percent of the world's total tuna supply. It makes Indonesia a global leader as tuna producer and its recognisable contribution to the national economy. 
As awareness of the social and environmental benefits associated with one-by-one tuna fisheries continue to rise, so too does the global demand for tuna products. This in turn is creating real opportunities to focus on concrete action to support global tuna fisheries and their sustainability.
Indonesian one-by-one fisheries underpin local livelihoods and provide equitable distribution of wealth, food security, and gender equal employment opportunities. However, like many small-scale fisheries, they're characterised by remote, coastal communities where climate change is a real threat and where a lack of infrastructure such as reliable access to electricity and facilities to maintain a cold chain, can be a real challenge. Furthermore, small-scale fisheries compete for, often, scarce resources and they generally feel left behind by decision-makers and markets that don't provide them with equal opportunities to compete.
The ITC and ICTBF conference, held in Bali, Indonesia, on 24-25 May, was opened by the Minister of Marine Affairs and Fisheries (MMAF), the Honourable Sakti Wahyu Trenggono, and attended by more than 200 local and international participants. This conference provided an ideal opportunity to demonstrate the very important contribution that Indonesia's one-by-one tuna fisheries make to the country's rising seafood exports. 
Last night, during the official Gala Dinner in celebration of the ITC and ICTBF, The Bali Declaration 2023 was signed by the Director of Fisheries Resource Management Dr. Ridwan Mulyana and IPNLF Chair Rahim Hoosen.
The Declaration shows the support for specifically these types of one-by-one fisheries in 'Blue Transformation'; how we can integrate new technologies and innovation in Indonesia's small-scale tuna fisheries to make them more competitive globally and ultimately progress them towards more climate friendly practices. 
Specifically, the Declaration aims to support Indonesia's efforts to implement more effective management systems which will ultimately help secure the long-term future of Indonesia's tuna fisheries, thereby protecting the livelihoods of the millions of people who depend on these resources for their food security and income. 
The Ministry of Marine Affairs and Fisheries, IPNLF, and global IPNLF members Whole Foods Markets, Woolworths, Marks & Spencer, Migros, Caterers Choice, Anova, AP2HI, Fish Tales, Fish4Ever, ICV Africa, Seafood Imports (JAVA), NUSATUNA, Ocean Brands, Sea Delight, Sea Tales, Sirena Tuna, and World Wise Foods agree to; 
Safeguard the health and well-being of all workers throughout our one-by-one tuna supply chains in line with international standards and recommendations.

Use our collective voice to elevate the market recognition of one-by-one tuna fisheries, raising the profile of these fisheries with relevant decision makers and with consumers to ensure these fisheries can thrive for generations to come.

Support investments in innovations and modern climate-friendly technology with the aim of reducing the carbon footprint of one-by-one tuna supply chains to help ensure a future for even the most remote fishing communities in Indonesia.

Take action to secure, safeguard and build opportunities for Indonesian communities to participate in highly competitive global seafood markets by providing the safest and highest quality products possible by following global best practices in handling and processing.
The Gala Dinner was attended by the Director of Fisheries Resources Management, Mr. Ridwan Mulyana, Head of Fisheries Research Centre BRIN-Mr. Fayakun Satria, and Coordinator of Exclusive Economic Zone and High Seas MMAF, Mrs. Putuh Suadela. Also present were two former Director Generals of Market Competitiveness of MMAF,  Mr. Nilanto Perbowo and Mrs. Artati Widiarti. International IPNLF members ICV Africa, Woolworths, Sirena Tuna, Migros, Sea Delight, Anova, NUSATUNA, and World Wise Foods also joined the proceedings as well as local partner AP2HI.
Dr. Ridwan Mulyana says: "I believe that with our collective commitment and all parties united; the central government, provincial government, tuna stakeholders and NGOs, we can achieve our goals for sustainability of tuna resources management and tuna fisheries business in Indonesia."
Martin Purves, Managing Director of IPNLF says: "The Ministry's collaboration with IPNLF over many years has yielded significant results in terms of improvements in how Indonesia's tuna fisheries are managed. Together with our international market partners and likeminded organisations, we look forward to continuing implementing improvements in the fisheries in line with The Bali Declaration 2023."