Having just wrapped up the 7th International Coastal Tuna Business Forum (ICTBF), you wouldn't have expected to find the IPNLF team sitting in canoes in the middle of a mangrove forest in Bali. Yet, with a little help from the local team Yayasan IPNLF Indonesia (YII), that's exactly where we were for a day with the Kampoeng Kepiting mangrove team!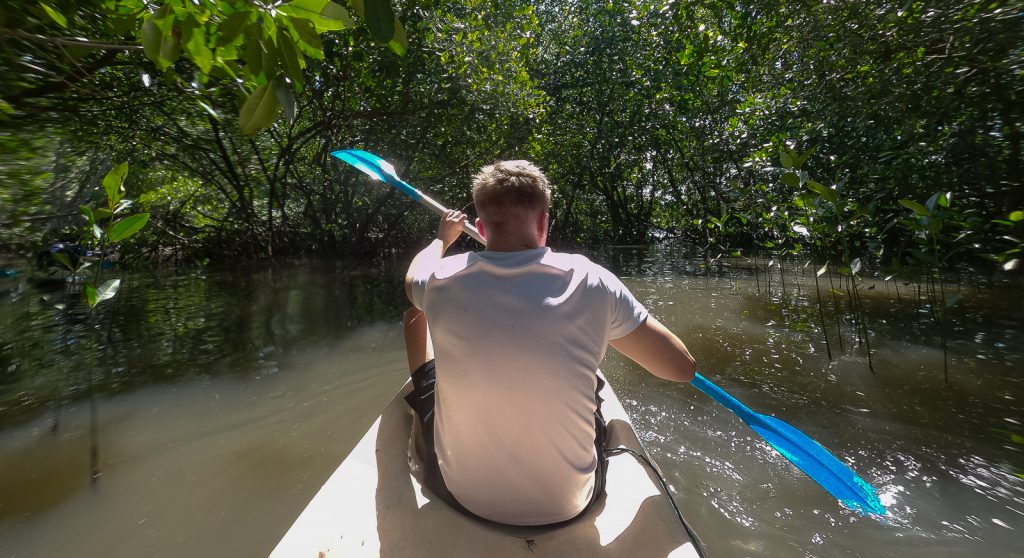 In honour of the International Day for the Conservation of the Mangrove Ecosystem, we therefore shifted from tuna to mangroves for a day to explain to you why these magnificent structures should be valued and protected.
Our day started with a short drive to the south coast of Bali where we would meet our guides for the day. Hidden in plain sight and only a stone's throw from Ngurarahi airport, was an old wooden boardwalk that would take us into the heart of a mangrove forest. The passion these guides have for the mangroves was contagious as they took us through our briefing for the day. After a quick 'Mangrove Cocktail' – yes, we drank mangrove juice! – we made our way down to the water to choose our kayak and your IPNLF team mate to help paddle you around the mangroves. 





We followed our guides along the edges of the developing forest where they helped us identify the different types of mangroves and showed us how the roots develop under the surface of the water. From there we visited the mangrove restoration areas, where their team is actively replanting mangroves one at a time. The propagated plants have a very low chance of survival so their team is constantly planting in order to make up for the loss. 
Did you know that Indonesia is home to 92 different mangrove species that collectively make up 23% of the world's mangrove forests?! As the tour continued we learned even more fascinating facts about how the mangrove forests are integral to the surrounding environment. Here's why we should cherish these delicate ecosystems:
They protect coastlines:

Mangroves act as a natural buffer, shielding coastal areas from storms, tsunamis, and erosion. Their dense root systems and intricate network of branches dissipate wave energy, protecting communities, infrastructure, and valuable coastal habitats.

Mangroves are biodiversity hotspots

: Indonesia's mangroves are home to a rich array of flora and fauna, serving as critical nurseries, feeding grounds, and habitats for numerous species, both under and above the water. They provide refuge to endangered wildlife, including various bird species, reptiles, and rare mammals, fostering biodiversity conservation.

They store carbon and help regulate climate:

Mangroves are highly efficient carbon sinks, sequestering vast amounts of carbon dioxide from the atmosphere. Their ability to store carbon helps mitigate climate change by reducing greenhouse gas emissions, making them vital in Indonesia's efforts towards sustainability.

Mangroves support thriving fishery industries

, sustaining the livelihoods of millions of Indonesians. These ecosystems provide breeding grounds for fish, shrimp, crabs, and other commercially valuable species, ensuring food security and income generation for coastal communities.

Mangroves act as natural filters,

purifying water and preventing pollutants from entering coastal ecosystems. They trap sediments, absorb nutrients, and improve water quality, promoting a healthy balance for marine life and supporting productive fisheries.

Mangroves are increasingly recognized as nature-based tourism attractions,

attracting visitors interested in ecotourism and outdoor recreation. Guided tours, birdwatching, kayaking, and mangrove boardwalks offer unique experiences, boosting local economies and promoting environmental awareness.
These unique ecosystems face growing threats due to human activities. Rapid urbanization, pollution, and aquaculture development have resulted in the destruction of large areas of mangroves. The consequences are already being felt and the decline of mangroves is a matter of serious concern for environmentalists and scientists. 
Recognizing the urgency of the situation, local organizations (such as the one we visited) and government agencies have come together to implement conservation efforts. Initiatives are underway to replant and restore damaged mangrove areas, involving local communities to ensure their active participation and sustainable management.
Bali's mangroves are not just a picturesque backdrop for tourism; they are an integral part of Indonesia's fisheries and coastal communities. On our journey back to our accommodation, we couldn't help but reflect on the beauty and resilience of these mangroves and the importance of responsible ecotourism as a vehicle to help raise awareness and drive change in local communities. Given their multifaceted benefits, the preservation and restoration of mangroves in Indonesia are crucial. 
Watch the full IPNLF Mangrove tour here