Gender Equality and Equity: 
How IPNLF Maldives Helps Women Fish Processors
Turn Fish Into Money
In the Maldives, traditional one-by-one tuna fishing is largely considered a male-dominated industry, but "women are the ones that turn the fish into money". Despite their significant contributions to household income and the fisheries sector, women fisherfolk face several challenges in expanding their small-scale businesses and reaping the maximum economic benefits. They often struggle with poor access to market information and credit, delayed and unfair payment conditions, unreliable buyers and middlemen, and limited financial assistance and training.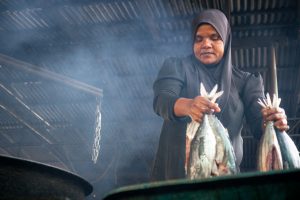 By using financial technology (FinTech), IPNLF Maldives, the local branch organisation of the International Pole and Line Foundation (IPNLF), came up with a game-changing solution in its project on Increasing Economic Benefits to Women Fish Processors to develop an exclusive e-market platform to socio-economically uplift women in Gemanafushi, the largest fishing island of the nation.
IPNLF Maldives now works with software developers, local women fisherfolk and key stakeholders to develop a digital trading application and are providing a series of trainings to improve business management, financial and digital literacy, and marketing skills for these women through capacity-building programs. This new approach by IPNLF Maldives to combine large-scale collaboration and technical innovation is a first for the country.
Recently, IPNLF Maldives published its first findings in the "BASELINE SURVEY REPORT: Increasing Economic Benefit to Women Fish Processors in the Maldives," which outlines the current context and obstacles that women fish processors in the Maldives are experiencing and identifies solutions to be implemented in order to support these women. The study also provided information to establish the baseline for outcome indicators for IPNLF's project.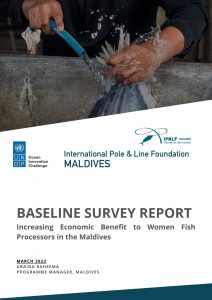 With this innovation, IPNLF Maldives is supporting local fish processing women to sustain and expand their small-scale business operations and improve their income from fisheries activities, without interference from unreliable buyers or unfair market conditions imposed by middlemen.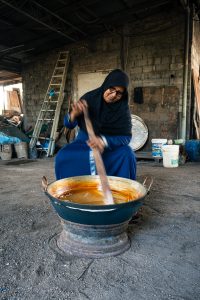 This innovation has been selected by UNDP's Ocean Innovation Challenge (OIC) out of 300 proposals received to tap into new technologies and approaches to end overfishing and put an end to illegal, unreported, and unregulated (IUU) fishing practices. These innovations promote sustainable fisheries and the Blue Economy to bring economic benefits to Small Island Developing States (SIDS) and Least Developed Countries (LDC) by increasing the access of small-scale fishers to technical and financial resources, thereby contributing to Sustainable Development Goal 14.
This IPNLF Maldives innovation will give women fisherfolk direct marketing and branding control over their fish products, augment their commercial value, and promote the empowerment of women through technology. The FinTech solution will provide direct access to the market and give women bargaining power to increase the economic benefits from their activities in the pre-harvesting, harvesting, and post-harvesting activities.
Accessible on mobile, the platform will support transparency and traceability, an important precursor of sustainability in the fisheries sector in the tuna fisheries' value chain, and will give consumers access to product information, the woman who processed it, the island it originated on, and potentially even the vessel and type of fishing gear that was used to catch the fish.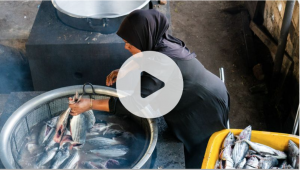 The all-inclusive, full-featured Dhivehi version of the Dhumashi app will eliminate the language barrier that poses a significant challenge for women when accessing digital platforms. Through training for small business sustainability & digital literacy, women will learn about common terms & language used on digital platforms & understand digital marketing, e-commerce, social media, & content marketing for small businesses.
---
About IPNLF Maldives
The International Pole and Line Foundation (IPNLF) and its branch organisation IPNLF-Maldives promote the sustainable management of the world's responsible pole-and-line, handline and troll (collectively known as 'one-by-one') tuna fisheries while also recognising the importance of safeguarding the livelihoods they support.
IPNLF's work to develop, support and promote one-by-one tuna fisheries is subsequently fully aligned with the 2030 Agenda for Sustainable Development. We believe effective and equitable global governance is essential to protect and restore the ocean, and this should be achieved by ensuring the participation of local and coastal communities in decision-making processes.
The work of IPNLF-Maldives focusses on data collection, specifically on the social aspects of the national fishery and exploring future opportunities for the use of livebait; to conduct a livebait survey and developing best practices for catching, storing and the use of livebait in one-by-one fisheries. Through these projects, we are establishing a replicable model for improvements in fisheries management to use around the world.
Furthermore, in the fight against ocean plastic pollution, the IPNLF-Maldives team has begun to develop a similar project on Lhohi Island, Noonu Atoll, following IPNLF's successful Ghost Gear Removal Project in Gemanafushi.
The Lhohi project will provide training to fishers on how to retrieve and safely dispose of ghost gear, as well as safely release entangled turtles which need to be rehabilitated if necessary.
---
About UNDP OIC
Between overfishing, pollution, habitat loss and the multiple impacts of climate change on ocean ecosystems, the ocean has never faced such a diverse range of threats. For this reason, the United Nations Development Programme (UNDP) launched a call to action — The Ocean Innovation Challenge (OIC) to accelerate progress on SDG 14 targets. Since 2020, the OIC with catalytic funding from SIDA and NORAD, seeks innovations to support that are transferable, replicable and scalable.
Out of 300 proposals received, IPNLF-Maldives' project was selected as one of the innovations to promote sustainable fisheries and the Blue Economy, and to receive incubation and financial support for up until summer 2024.
The Innovation
In the Maldives, "women are the ones that turn the fish into money". However, women fisherfolk often struggle with delayed and unfair payment conditions, unreliable buyers and middlemen, and poor access to financial information, tools and training.
IPNLF-Maldives came up with this game-changing solution that will connect women fisherfolk in Gemanafushi to an exclusive digital market platform to let them account for their own production and sales data, receive payments directly without a middleman, and conduct financial transactions online, build credit histories and access financial tools.
The platform, which will be accessible on mobile, will support transparency and traceability in the fisheries value chain and give consumers access to product information — the woman who processed it, the island it originated, and potentially even the vessel and type of fishing gear that was used to catch the fish.